As a successful entrepreneur, Val had always had a clear vision of his future. 
Foremost among his goals was a strong focus on improving his health and fitness. As he got older, he wanted to be more lively, energetic, and able to handle life's demands, especially as a father.
"I'm in my 40s now and I started learning Karate with my son 5 years ago. I want to be able to get a black belt with him before I turn 50. Progressing in Karate is not easy. The levels get harder and harder, so I need to be ready to take on the black belt in a few years."
Propelled by this strong 'why', Val had been hunting for a lifestyle solution. He wanted to learn how to keep his progress without rebounding, with little luck. 
Getting Off The Yo-Yo Cycle 
Before RNT, Val hadn't been unhealthy - he fell squarely into the 'skinny fat' category.
When he was in his 30s however, he had gained quite a lot of weight. Realising that his weight was at the highest it had ever been, he started to go to the gym more regularly. 
"I tried some fitness programs like P90X and I did get some good results. I lost quite a lot of weight. But I had no knowledge on how to maintain my results, nor did I try to
make any effort in managing my nutrition."
With most of his energy being consumed with work, Val's work-life balance suffered. 
"Back in 2010, I was working two jobs and I was working 70 hours per week. I also dabbled in the stock market at the time and got badly stung. I made some great investments but then there was change in the market and I lost it all. I really felt like a failure at that time."
With his stress levels peaking and his self esteem suffering Val knew he needed to do something to pull himself out. 
He thought focusing on his physical health would help him manage his stress and anxiety levels. 
He signed up to a couple of other fitness programmes and made some progress. He lost a lot of weight but he still didn't know how to maintain it. 
Consistency was Val's biggest problem. 
"I have always been unable to stick to a programme for more than a few months. I start off strong, then lose my focus. I have a very short attention span, which is why I was sceptical about RNT. I was worried that if the programme was for 12 months I would lose motivation and momentum."
But after learning more about the RNT programme and reading RNT Founder, Akash Vaghela's book "Transform Your Body, Transform Your Life" he felt that his scepticism was misplaced.
"I read the book twice and it really resonated with me. I have tried a few fitness programmes and I've experienced the same problems detailed in the book but I had no strategies on how to deal with those problems. 
Reading the book gave me a new perspective and my doubts about RNT working for me began to fade."
The Power Of Accountability 
While Val was convinced about the RNT philosophy he still had a few concerns. 
"In all of my previous fitness programs I have had weekly one to one zoom calls with the coach. When I learnt that RNT didn't have that feature, I wondered how it would work. 
But once I signed up and joined my cohort I realised that this small group engagement was even more effective than the one on one support. 
I found myself learning from others in my group and implemented their ideas into my life. It was brilliant. Even the larger group coaching calls were great and very useful."
Val has also had a great experience working with his coach. 
"I've always worked with male coaches, so when I was assigned a woman coach I was a bit unsure. But once the journey started all my doubts were dispelled. My coach is brilliant, her knowledge and support is amazing!"
With this accountability network in place, Val finally felt like he was in good hands and his results speak for themselves. 
Navigating Socials 
As a successful entrepreneur, Val had an active social life. His work required him to constantly meet with people on a social basis. 
"At first, I thought I had to stop socialising while on the RNT programme. But then, I knew that wasn't sustainable. I had to learn to socialise without compromising on my fitness goals. 
So I made a few changes that weren't too obvious to my friends and colleagues. I chose to hold a glass of sparkling water with a slice of lemon pretending it was gin and soda water. I would eat my meals before heading out so I wasn't hungry for the snacks on offer."
With these small changes, Val found that his productivity levels skyrocketed. 
Embracing the Journey 
January 2023 was the official start of Val's RNT journey. But he had begun to put in the ground work in the months leading up to the start. 
"I'm a bit of a perfectionist. When I start something, I like to execute it perfectly. So I had started to implement changes to my lifestyle even before I started in January. 
In December 2022, I had drafted my vision for 2023. I visualised myself shredded with a six pack and lots of energy. 
But two weeks after I started, I hurt my foot and couldn't train for a couple of weeks. Instead of just giving up, my coach showed me how I should focus on what I can control. 
'Control the controllables' is a mantra I now live by. 
I focused on nutrition and continued to train my upper body, while my foot healed. As soon as my foot healed I went all in."
Working The Data 
Val is a Data Engineer by profession and so he made sure he analysed all the tracking and data offered on RNT Pro platform. 
"A really great quote I like to use is: 'That  which  is  measured  improves.  That  which  is  measured and reported improves exponentially!' 
So I made sure I used all the stats on RNT Pro to help me expedite my progress."
Using the week by week progress reports helped Val optimise on his strengths and build strategies to handle his challenges. 
"I like that the 12 months are further divided into 12 week stages. It breaks it down and helps it seem less overwhelming. 
I've also joined in the 12 week challenges. They are a great way to stay motivated and I've learnt a lot by participating in them." 
Val especially appreciated the fact that Checkpoint (hitting your goal weight) is just a part of the journey and not the destination. 
"After hitting my goal weight my real learning continued. I'm now learning what it takes to stay in great shape for life."
Consistency Leads To Progress 
The structure and guidance provided by RNT played a pivotal role in helping him stay on track. 
Val's newfound consistency not only had a positive impact on his physical health but also improved his energy levels and focus.
As a father, he recognized that his commitment to health and fitness was setting a significant example for his son. 
"I want to lead by example. Simple things like snacking and choosing healthy snacks goes a long way. My wife has been such a support as well, keeping me in check when I'm distracted from my goals."
After years of trying, Val has found the tools to cultivate consistency. He is now paving the way to leading a healthier and more vibrant life.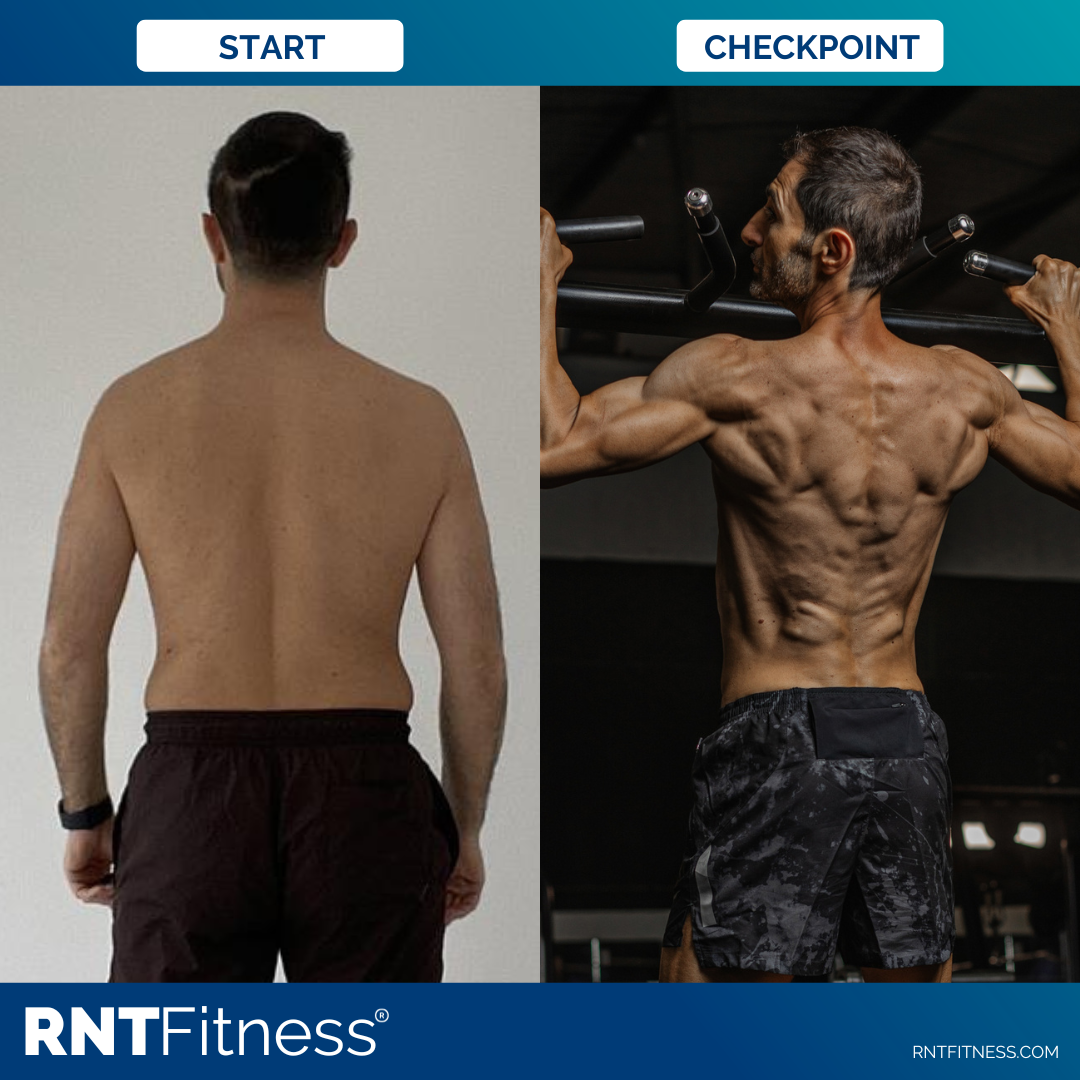 The Podcast
In Ep 359 of RNT Fitness Radio Val speaks about his struggles before and after RNT. He readily admits that he was sceptical of the programme at first, having been let down before. 
In this podcast he says, "RNT is different from other programmes because it teaches you how to stay in shape. The programme teaches you how to have a structure that supports you even when life gets in the way."