Before joining RNT, Adam had tried every fad diet and fitness program he could get his hands on.
He consistently made valiant efforts; trained regularly at the gym and even worked with personal trainers, but was never happy with the result.
He got particularly desperate when the Coronavirus lockdown left him 20lbs heavier!
"I was on holiday and I realised how desperate the situation was when even my biggest pair of swim trunks were too tight! I realised then that I had two choices, either I had to buy a whole new wardrobe or sort out my body! I'm glad I picked the latter!"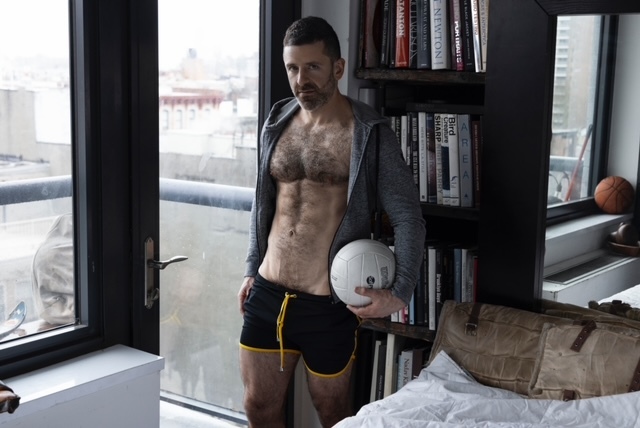 Why RNT?
Adam had literally tried every fitness program and fad diet under the sun and while he did make some progress and lost some weight, he always felt like he looked the same.
"I have worked with a few trainers but they never focused on nutrition! They didn't show me how much to eat and how to plan my meals."
Adam knew the old phrase 'abs are made in the kitchen' but when he tried to google nutrition plans he found all the information so overwhelming!
"There is so much information out there and I didn't know which was right for me and I had no clue how to make it work for me. I could never plan food around my macros before I joined RNT!
After joining RNT, I learned the importance of weighing my food and I learnt how to have balanced and nutritious meals."
This was the turning point for Adam. After years of trying he got results within 4 months and the knowledge he had gained was changing his entire lifestyle!
"I started in October 2020 and by Jan 2021 I was already looking better than I had ever looked in my life and I hadn't even reached my Checkpoint! I realised then that there is nothing more significant than a lifestyle change where you can learn what to do over a long period of time and actually see sustainable results."
The Biggest Challenges
This doesn't mean that Adam had a perfectly smooth start to his journey. He did have a few hurdles; the biggest one being meal prep and cooking. He had never focused on cooking before and learning how to prepare his meals in a way that was palatable took time and at first, he found it quite frustrating.
"I realised I had to figure it out through trial and error. I was told I had to eat white fish but I had to figure out what type of white fish and learn how to prepare it! I had to figure out what kind of veg and salad I could enjoy. I knew that I had to find recipes that I would enjoy eating day-in and day-out."
This process of trial and error is crucial towards building a unique lifestyle fitness solution. It is in fact a mandatory right of passage to reach the shape of your life: especially since at RNT we emphasise the fact that we want to be in that shape for the rest of our lives and not just for a few weeks!
There are people who shy away from trial and error; people who just want to have their fitness program spoon-fed to them. The sad truth is, these individuals will find it hard to sustain their results as they wouldn't know how to cope when life gets in the way.
The knowledge you gain from the trial and error process helps you stay on course during hen and stag-dos, holidays, weddings and festivals. You can actually enjoy yourself without feeling worried or guilty about all the weight gain. You learn how to live your life to the fullest! That is really the secret to staying in shape year round!
After a few weeks, Adam overcame his struggles around nutrition and his meal prep with the help of the RNT coaches.
"The fact that I could speak to my coach who would listen to my struggles and offer advice really helped me get over this hurdle. The advice I got from the wider RNT community as well was really useful and I never felt like I was alone."
It's A Marathon, Not A Sprint
RNT not only offers our members a blueprint to get into jaw-dropping shape, we also help them build a sustainable lifestyle fitness solution that helps them stay in shape year round for the rest of their lives. There is no magic spell to get here; it takes time, patience and ruthless consistency to establish a new lifestyle and break out of poor habits that have been part of one's life for years. This is why the RNT journey is a marathon and not a sprint. You need to develop your own structure, strategy and system to make it to the finish line and still feel good in mind and body.
When Adam started off his journey, he saw results really quickly at first. After the first four months things began to slow down, he could have pushed harder and hit his Checkpoint weight much quicker but Adam chose to take a more sustainable route.
"I live in NYC and it's a city that never sleeps. I have a busy social life with lots of activity. I am not able to cook and meal prep all the time and this did affect my rate of progress. There were many weeks when I was strong but the weekends were more indulgent. Not in a way that was crazy but I did allow myself more calories and was a bit more easy on myself. This allowed me to keep my lifestyle but still work on my transformation."
Adam chose not to be completely single-minded in his approach as he didn't want to deny himself the things he loved.
"I was partly worried that if I was too strict with myself all the time I would go off the rails and go on a binge. This way whenever I did treat myself I made sure that the calories were worth it. I wasn't going to eat just any cookie, if I ate a cookie it had to be absolutely amazing! I allowed myself these one off treats with my transformation goal always at the back of my mind so I was always in check. I made sure I applied the one plate rule with a good portion of protein, carb and veg. This helped me enjoy a night out and I always made good choices."
The Physical Is The Vehicle
Adam had a very clear idea of where he wanted to be when he reached his Checkpoint. He had his strategy, structure and system in place. He had nailed his lifestyle fitness solution so he could feel, look and perform at his best.
"I did not fully realise what I was actually capable of until I reached my goal weight. I have grown so much over the past year. And although it sounds rather vain to say so, my new appearance has really opened up so many doors. As a gay man I have renewed confidence in myself and I find I am also attracting like-minded people."
He continues to work on increasing his strength and really wishes to internalise his nutrition strategy.
"I really want my nutrition to become intuitive. I want to be able to go out and enjoy myself and not worry about my weight. I am now at my sweet spot and I really feel amazing. I find that even when I do have a weekend of fun I get back to my sweet spot quite easily and that for me is amazing. I just want to keep fine-tuning this and building on this knowledge upto a point when it becomes completely instinctive and I don't have to over-think it at all."
That is the ultimate prize and one all RNTers strive to achieve. This ability to just be instinctive with food and not have to think too much about how to make time for training and steps is part of the much sought after Reward Phase, which can only be earned by being ruthlessly consistent. And Adam is well on his way to achieve it.
Podcast
In episode 281 of RNT Fitness Radio Akash and Adam talk more about Adam's journey and the tools that worked for him.
When we asked him what advice he could share with RNTers just starting out on their journey he said, "You miss 100% of the shots you don't take. If you don't try you are never going to know what's going to happen."
That is a common theme amongst RNTers, they never realise what they were truly capable of and then they go above and beyond even their wildest dreams.
Tune in to hear how Adam set aside his doubts, nailed his dream physique and unlocked his full potential in all aspects of his life.