Note from Akash: This case study is a special one, in that it's written first hand by Shwetha Jairam, a member of RNT Fitness both as part of our Transformation Programme, but also as our Storyteller within the team. It's been incredible seeing Shwetha dive into the RNT Journey shortly after joining our team in the middle of 2021. Seeing her growth, confidence and drive develop is a testament to her work ethic, character, and the power of the physical as the vehicle!
All my life I have made efforts to stay active. I used to cycle, I loved hiking and I was also in my school athletics team. While in college I even made it a point to go to a Jane Fonda style aerobics class thrice a week!
All of this exercise helped me stay slim but I never had those washboard abs I so desired. I've always carried a little marsupial-esque pouch which was the bane of my early adulthood.
This 'pouch' only became even more commodious after I had children. No matter what I did, I couldn't lose it!
As most mothers will agree, the size of your take-away cup of coffee is always inversely proportional to the amount of sleep you managed to get the previous night. The larger the cup, the lesser the sleep! And this is how I coped through most of my early years of motherhood. Coffee, tea and loads and loads of biscuits.
Two children and into my 30s surviving on a rather bad diet left me rather wrung out. I was tired all the time. I was no longer slim and my pouch had gathered even more real estate!
I knew I had to make a change and get back the bounce in my step. So when a mother from my son's school started group fitness classes and a running group, I decided to join.
Over the past 3 years I slowly established a running practice, I also started practising yoga. My energy levels finally improved and I definitely lost weight.
However, I still ate quite badly - lots of bread and biscuits with a green smoothie thrown into the mix when I felt guilty about all the carbs and wanted to delude myself into thinking I was making healthy choices!
Given the circumstances I thought I wasn't doing too badly. After all, I had managed to run a few half marathons without wanting to keel over and die at the end of them. So I believed this was as good as it was going to get.
From Denial To Acceptance
When I started to work for RNT I gained more understanding about food and nutrition. But when I read more case studies about women who had achieved their dream physique, I still didn't believe I could do it. I still thought that they were the exception to the rule and that there was no way I'd be able to execute a full push-up and achieving a chin-up seemed utterly preposterous!
But as I read more and more case studies about mothers who were in a similar position, my hesitation and disbelief slowly abated and I decided to give it my best shot and see what I could achieve.
Gaining Physical And Mental Strength With RNT
I had never set foot in the weights area of a gym before. I found the weight machines daunting and the gym floor was so male dominated that I felt shy and intimidated.
But on Day 1 of my training armed with my little log book and my training plan, I walked in, swallowed my nervousness and headed for the weights rack. And that's when I realised that no one really cared, they were all there to achieve their own goals and they weren't even remotely interested in what I was doing.
Training Videos
Even though I was completely new to training, the Deep Dive training videos on the RNT Pro platform really helped me execute the lifts. I didn't feel like I was totally in the dark.
Although I was self-conscious at first and didn't want to video record myself executing the lifts and moves, I knew that it was the best way to ensure I had perfect form. The feedback I received on the videos from the RNT coaching team was so helpful and I learnt so much about how to choose the correct weight. It also helped ensure that I didn't injure myself on the gym floor.
I even learnt the value of going back and looking at the videos myself. As I gained more confidence I could see where I was going wrong. It's also pretty hilarious to see how terrible the first lifts were and how much I have improved over time.
Progressive Overload
When I started in Oct 2021, I started with a mere 5kgs; today 6 months into my plan I am comfortable with 8 times that weight.
Every week I could feel my strength build and my muscles gaining more definition. I learned the power of following the same plan over many weeks. At first, I thought I'd get bored doing the same set of exercises over and over, on the contrary I always go in eager to see if I could add more weight or if I could squeeze in another rep.
Holistic Growth
I have always been rather reticent and shied away from confrontation. When challenged, my typical reaction was to always back off and accept defeat. I would find it hard to stand my ground even if I knew in my heart that I was right, because I had a lot of insecurities.
I have read of other RNTers experiencing a sudden boost in self-confidence and self-worth as their strength in the gym increased. But I was still amazed by the change (subtle at first) in my own confidence levels as I progressed through my journey.
Suddenly saying 'No' wasn't so hard anymore; I realised that I was no longer afraid of confrontation and most surprising of all my ability to accept feedback and grow from it improved. I wasn't shy anymore, I wasn't shrinking away from heated debates and I could see opportunities for improvement when earlier I would have dissolved into tears while belittling myself for every minor mistake.
I had suddenly at the end of my 30s found a quiet confidence I never thought I could ever possess.
The Biggest Challenges
I loved the training aspect of RNT and I think in all of these months I have missed 2 training sessions. I always hit my step target and always make it to my strength and cardio sessions.
The biggest struggle was in nailing my nutrition plan. I love my food and the trouble is I am (if I may say so myself) a pretty good cook! I love the art of baking and creating new recipes and I found cooking without being able to taste anything rather difficult.
I was also terrible at portion control, I struggle with this even today. Finding satisfaction with a small portion is hard, I always yearn for more and resisting the urge to reach for a second helping is a constant battle. But I am getting better at it every day.
I try to remind myself that the strength I'm building in the gym is only one part, the true strength is internal and that is the strength that will help me rise above my urges and push me past trivial temptations that only stand in the way of true holistic progress.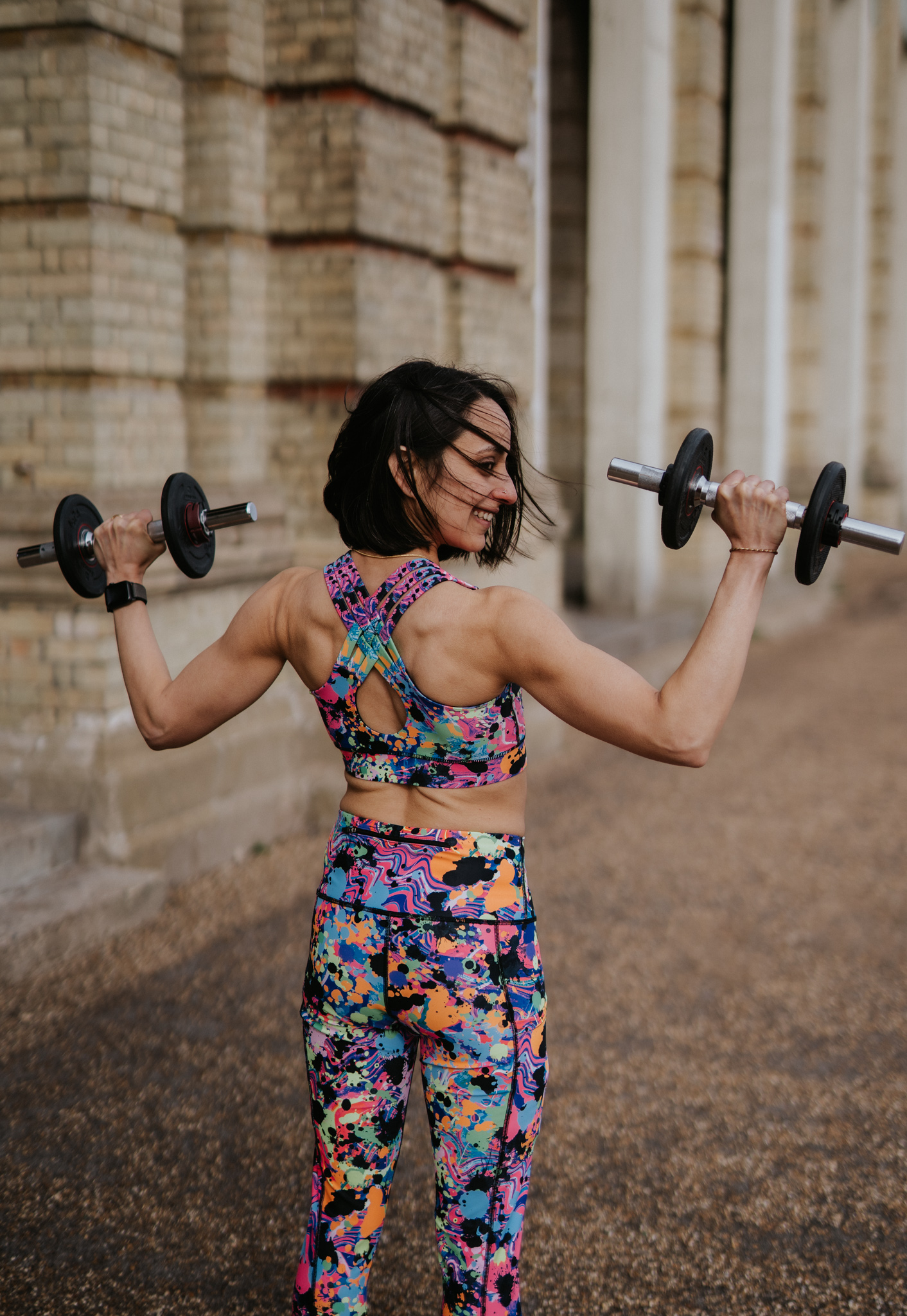 The Physical Is The Vehicle
For me the physical has been the vehicle in unlocking my own self belief. I have always found it easier to put myself down rather than to stand up for myself. Today, I can say with complete honesty that I have found my own voice - and while it may not be overtly flamboyant, it is my own. Those who know me well can sense it, especially my children. And while others may not even realise the change, it has made a huge difference to my own attitude to life - I have found a bounce in my step and my head is held high with my sights firmly set on constant growth and progress.
The uncanny symmetry in my starting and ending weight was pretty cool!
Starting Weight - 49.1kgs
Checkpoint Weight - 41.9kgs
Podcast
I'm usually on the other side of the podcasts: I love to listen to them while on walks but I also need to listen to them to create our member stories. This time being in the hot seat with Akash talking about my journey was unusual and rather special. Reflecting on the highs and lows helped to solidify my own thoughts and learnings through this incredible journey.